Interview with Michael Wilson - Owner of The Rock House Workshop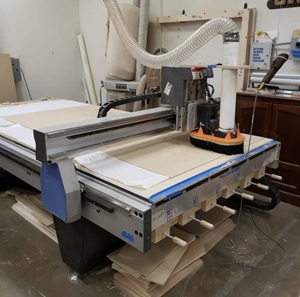 1. Provide us a brief bio of yourself and your woodworking experience.
I am an Enterprise Account Executive at a Dallas based security company. My job can be very stressful so I began looking for a hobby. While hanging out with one of my neighbors, who does woodworking. He told me about the Dallas Makerspace and I saw some of the stuff that he had done there, and it blew my mind. I joined the makerspace in pursuit of finding a hobby that interested me. I quickly fell in love with woodworking but really enjoy art, blacksmithing, and pottery as well. I was very excited to know that I had access to so many great tools like the MultiCam (1000 Series CNC router) all for an affordable monthly membership rather than having to make a large investment for a hobby.
2. What is your educational and business background (if applicable)?
I graduated High School and went to college for a year but felt it wasn't for me and I thought I would be better off just going straight to work. Ultimately, it panned out pretty well and now I've been at my current company who provides enterprise security solutions for 14 years .
3. Which MultiCam machine(s) [i.e., Classic] have you operated?
The Dallas Makerspace has the MultiCam 1000 Series CNC Router and that's the only one I've operated so far. Even though it's old that thing is still rock solid, it works great!
4. What parts do you create and/or materials do you usually cut? Types (if applicable)
My first few projects on the MultiCam were little like welcome plaques for my brother and sister-in-laws new home and some coasters. Then when I posted those pictures on Instagram, one of my neighbors saw it and asked, 'Can you cut something for me? I need 140 hexagons' so I designed it and showed them and we agreed to the project. I ended up cutting six sheets of various sized hexagons ( ¾" , ½" , and ¼" ). It ended up being 168 hexagons total and took about 5 hours. Most of the time was spent loading and unloading the wood on to the machine. With help, I could've cut the time down by half" This is the largest project I have completed to date but now I feel confident that any project is do-able with the MultiCam router.
5. How many hours would you say you operate the MultiCam CNC machine?
Probably around 4 hours a month.
6. Do you have any experience operating other non-MultiCam CNC machinery?
Yes, a Shapeoko CNC Router as well as four different CO2 Lasers at the Dallas Makerspace. Although, after running a Shapeoko and a MultiCam it's like a night and day difference between the two because of the rigidity and speed of the MultiCam." The MultiCam produces a much better end product in a fraction of the time than hobbyist machines.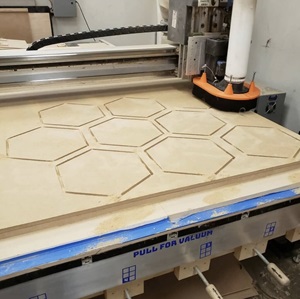 7. What do you like most about MultiCam machine? [i.e. quality, accuracy, speed, ease of use, etc.?]
Most of all, it creates a better product faster than other things I've used. Some of the hobby level machines are extremely slow and you have to run multiple passes whereas the MultiCam can do the same thing in one pass. I don't know what the difference is, whether it's the rigidity or if it's moving at the right feedrate that makes the wood not burr up but on the hobby machines, the edge quality just looks terrible compared to the MultiCam.
8. How has a MultiCam machine(s) improved your part quality, productivity, creativity, services, etc.?
It has definitely expanded what I can do and the products I can offer. The sign I created for North Texas Escape Rooms would not have been possible without the MultiCam. It consolidated the tools I needed to essentially two tools, a MultiCam and a sander. Whereas I would have needed, a band saw, probably a scroll saw to get into the tight crevices of the letters, and a table saw. I would have been all over the place to try to cut those things out – it would have been a good 40-80 hours or more probably to do all that. Also the creativity and just knowing that I can use that machine to create anything that I want allows me to open up a little bit more. Rather than just cutting simple squares I can cut things that are interesting, unique, and cool and that is why I really like the MultiCam.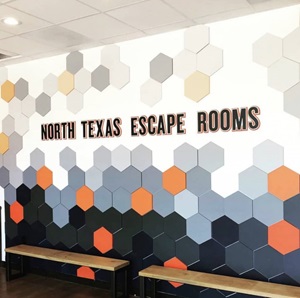 9. Would you recommend a MultiCam to your friends or colleagues?
100%
10. Add more comments if you wish.
The fact that you guys were willing to bring me in and show me around and treat me like a good customer even though I'm just a hobbyist says a lot about the company, I think you guys are awesome.