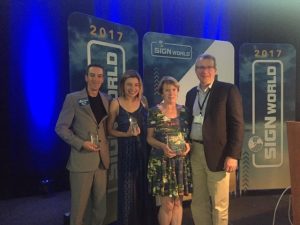 MultiCam would like to congratulate Starfish Signs & Graphics on their Sign of the Year award at this years Signworld Convention in Las Vegas!
Starfish Signs & Graphics was honored with three industry awards at the recent Signworld Convention in Las Vegas. Nicolette Betuk received the top award for best sign design, and Dave Werner (along with Jim Carlise and Landon Rose, not pictured) received the best installation award. Nicolette and Dave are shown with owners Mike and Laura Reilly, who received an award for business performance. We are very proud of all members of the Signworld Team!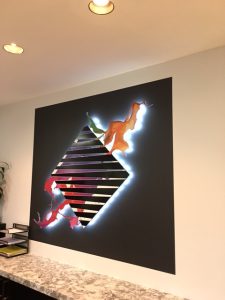 This unusual halo-illuminated lobby sign was routed from a sheet of clear 3/8" acrylic on their MultiCam 1000 Series Router. They applied digital graphics to the face, using a combination of opaque vinyl, translucent vinyl, and clear areas on the acrylic. Illumination was achieved by applying very low profile, 3/16" LED modules to the perimeter, back-side of the sign. Using a 1/8" router bit on the MultiCam CNC Router, they were able to accurately reproduce the fine detail from the design in the acrylic panel. They also routed the acrylic laminate / foam letters on the reception desk.
The Starfish project team was led by designer Nicolette Betuk, fabricator (and CNC router operator) Jim Carlise, and installers David Werner and Landon Rose.
For more information on unique signs & graphics such as this one, please visit starfishsigns.com