Company to showcase efficiency and productivity gains with Kongsberg and MultiCam machines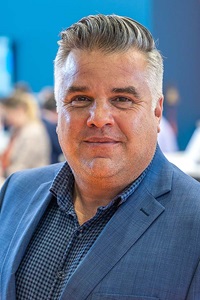 Visitors to this year's PRINTING United expo will discover how a combination of precision machinery, automation and integrated workflows is enabling manufacturers to achieve their goal of maximizing productivity while optimizing quality.

From October 18-20, Kongsberg Precision Cutting Systems ('Kongsberg PCS') will be at the annual expo, held this year in Atlanta, Georgia, where it will use its 4,000ft2 mega booth not only to highlight the power, performance and versatility of its Kongsberg and MultiCam solutions, but also to emphasize how advances in state-of-the-art automation have streamlined the entire workflow.

"Manufacturers and converters are under increasing pressure to produce faster, safer, and more efficiently to meet the demands of the global market," said Matt Thackray, Vice President and GM Americas, Kongsberg Precision Cutting Systems. "The advancement of automation throughout the process continues to optimize manufacturing throughput and quality of finished products. This is helping manufacturers achieve their goal of maximizing productivity while optimizing quality – essentially producing more, better and faster.

"We have continued to evolve our hardware and software solutions, not only simplifying and improving the quality of the finished products, but also improving overall productivity and throughput by automating processes such as material handling," he said. "That's why we're excited to be showcasing so many of our market-leading machines at this year's PRINTING United, demonstrating how these advances in technology can help manufacturers more easily bring designs to life."

From booth #B7033, the world's first diversified provider of digital finishing and CNC cutting machines will demonstrate the capabilities of its flagship Kongsberg C64 system, its modular Kongsberg X24 table and the MultiCam Apex1R and Apex3R CNC routers to visitors. A further Kongsberg X24 will also be running on booth #B10073, where it forms the center of a display for Ultimate Technographics.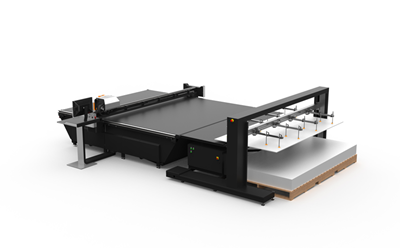 "We are excited to have our largest ever presence at PRINTING United, running live demos of all our machines throughout the day," said Matt. "As well as featuring a Kongsberg C64 in full flow, we will be demonstrating a second of our flagship tables in line with an IMC automated automated board feeder and a Canon 'Texas' Printer. This integrated system will give visitors the chance to see first-hand how the precision, speed and consistency of the table combines with automation to boost efficiency and throughput across a complete workflow."

The Kongsberg PCS team will also be delivering continuous demos of its Kongsberg X24, easily the most versatile digital finishing device on the market. "We continue to explore and develop innovative new ways to add value to the cutting and routing processes, which in turn add significant value to businesses," he said. "The extensive range of innovative Kongsberg tooling delivers greater freedom in design and creativity, and we're excited to show visitors how our solutions combine with advanced software and robotics to deliver complete automation for printers.

"This theme of advanced technology continues with our impressive MultiCam Apex3R CNC router," said Matt. "At PRINTING United, we will demonstrate how businesses benefit from a number of features standard with this machine that they might normally only get when buying much more expensive routers," he said. "As well as its heavy, all-steel tube frame that ensures durability and makes it more rigid, the Apex3R includes the EZ Control operator interface so users can start routing right away. This ensures minimal interruption in work processes, while a three-axis motion control system gives tight control over routing quality for precision and quality cutting.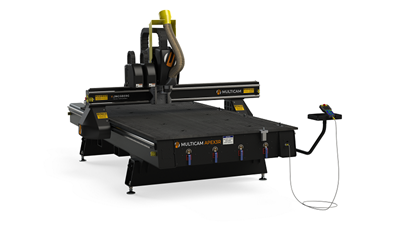 "Also on display will be the Apex1R, designed for smaller businesses or shops but still offering the same great performance you expect from a MultiCam router," he said. "Constructed from a single-piece welded steel frame along with an aircraft-quality steel gantry, the Apex1R also features cast gantry supports which greatly dampen vibrations. We look forward to using PRINTING United to demonstrate how the helical racks on each axis provide smooth motion and tight control for precise and quality cutting."

Live demonstrations of each MultiCam machine will highlight the power, simplicity and accuracy of cutting and routing a range of materials including acrylic, aluminum, precision board, PVC and more.

To see the Kongsberg C64, Kongsberg X24, MultiCam Apex3R and MultiCam Apex1R in action, or to discuss digital finishing and automation, visit Matt and the Kongsberg PCS team at booth #B7033 at this year's PRINTING United from October 18-20.

For more on the entire range of digital finishing solutions and tools visit www.kongsbergsystems.com.
For more on the complete range of CNC routing and tools from MultiCam, visit www.multicam.com.