Interview with Bryan Fuller - Master Builder and Designer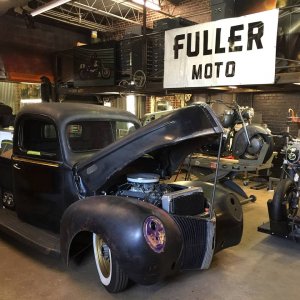 1. Provide a brief company history with type of business, industries you serve, facility size/growth, and current number of employees.
We're located in Atlanta, Georgia, and known as one of the leading automotive and motorcycle design/customization shops that is located in the USA. The company was founded in 2000 and is made up of a five person fabrication team. We provide educational workshops, easy to follow DIY projects, informational books, entertainment (TV shows), and a do-it-yourself culture.
2. What's your educational and business background (if applicable)?
I earned a pre-med degree focused in biology with a chemistry minor at the University of North Texas (UNT) but instead chose to pursue my passion for automotive customization. After enrolling at Wyoming Technical Institute and learning about the whole fabrication process, I began to develop the fabricating skills which lead to where I am at today.
3. What is your passion about Fuller Moto?
It's so cool to take all these weird crazy ideas and build it. To know that you built all that machine with your team and be able to ride it, it's pretty fun.
4. List MultiCam machine(s) [i.e., Router, Waterjet, Plasma, Etc.] and applications. What parts and materials do you cut?
The shop has a 3000 Series Waterjet which helps cut a number of different parts such as frame brackets, custom washers, and more. While we use the 3000 Series Waterjet to cut a bunch of different types of material, we regularly cut 1/8 stainless steel, ¼ and 1 mild steel, and 1 aluminum.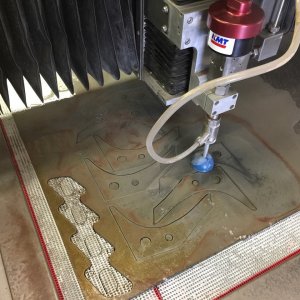 5. How many hours does each MultiCam machine run per week, and how much does it produce?
While each week varies since there are many 'one-off' parts, the 3000 Series Waterjet runs for approximately 20 hours per week.
6. Why did you choose a particular MultiCam machine line over the others we manufacture (router, knife, plasma, waterjet and laser)? What makes it the right choice for your applications/materials?
For us we mainly use the Waterjet because you can accurately cut so many types of material. Whether you're cutting really thick or thin materials, the accuracy stays the same. There is no clamping involved and we were able to greatly reduce our clean up times.
7. What do you like most about MultiCam machine quality, accuracy, speed, ease of use, etc.? Include customer reactions if you like.
The 3000 Series Waterjet is very user friendly and easy to learn – even half of the team is able to use it.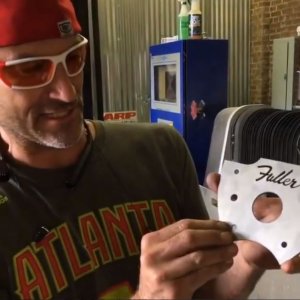 8. How have your MultiCam machine(s) improved your part quality, productivity, creativity, services, business expansion, sales, revenue, etc.? What do you predict for the future?
We've gone from having to wait for other shops to create our parts for us to now making them in house at a fraction of the time and cost. We're in control rather than being at the mercy of someone else.
9. Do you have any other reasons you would recommend MultiCam to other companies shopping for CNC cutting machines?
It has been a solid machine to use with an easy software plus it's supported by some nice people in Dallas, Texas (HQ).
10. Do you have any more comments?
We used to have a CNC Plasma machine before and it was just too much cleanup for us. We weren't able to accurately do thick enough material and got soured on the whole automated cutting. But now with the 3000 Series Waterjet, were looking for new parts which we can cut that will save us time and be more accurate.